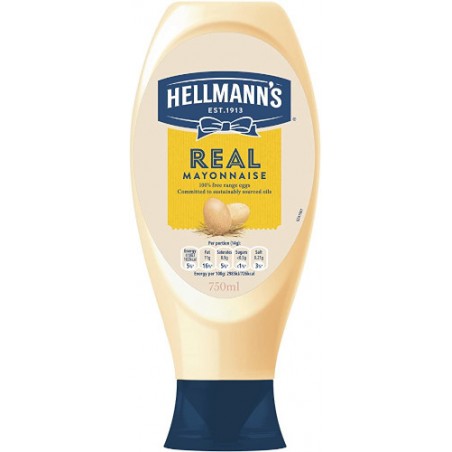  
Hellmann's Real Mayonnaise 750mL
100% free range eggs 
Committed to sustainably sourced oil.
Established 1913
To open: Unscrew cap, remove seal, replace cap, flip open lead. 
Refrigerate after open, use within 3 months . Do not freeze.
Ingredients
Rapeseed Oil(78%), Water, Pasteurize free range Egg and Egg York, )7.9%(, Spirit Vinegar, Salt, Sugar, Sunflower oil, Lemon Juice Concentrate, Antioxidant (Calcium Disodium EDTA), Flavouring, Papri
kca Extract. A good source of Omega 3.