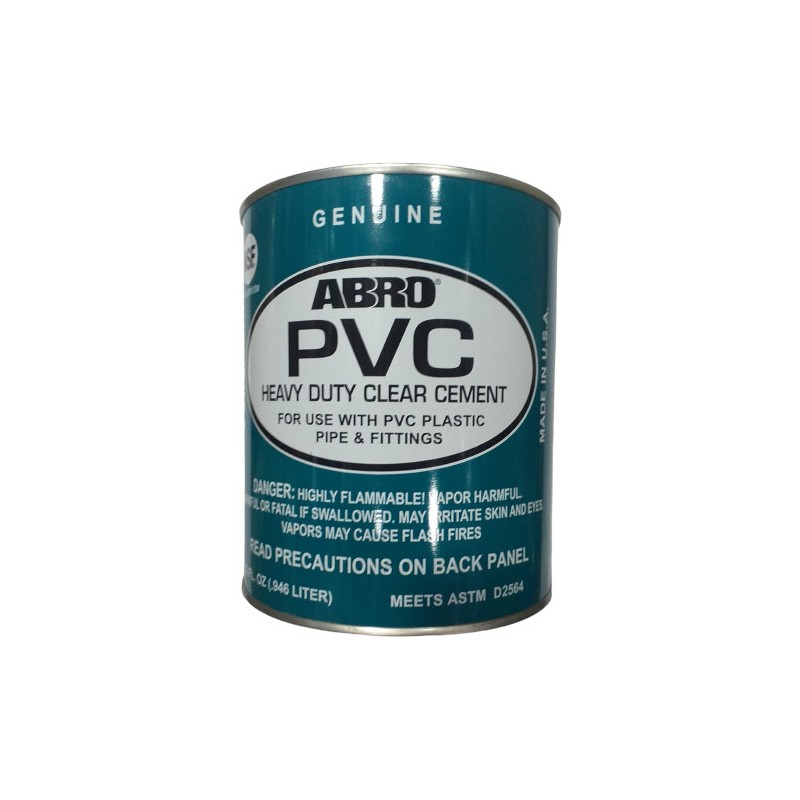  
ABRO PVC Heavy Duty Clear Cement 32 FL.OZ
Genuine
For use with PVC plastic pipe and fittings.
NSF
PW-G/DWVSW
Danger: Highly flammable! Vapor harmful. Harmful or fatal if swallowed. May irritate skin and eyes. Vapors may cause flash fires.
Read precautions on the back panel.
Meets ASTM D2564
PVC Cement with dauber
For types I and II
Sch. 40 and Sch. 80 up 12".
Irrigation
NSF listed for PW, DWV & SW
PV-32H-L
Directions:
Stir and use at temperature between 40°F (5°C) and 110°F (43°C). Stir or shake well before using. If "jelly-like" don't use. Use within 3 years of date stamped on bottom of can.
1. Square pipe ends and remove all burrs and dirt.
2. Check dry fit of pipe and fitting. Pipe should easily go 1/3 of the way in. If pipe bottoms, it should be snug.
3. Clean pipe and fitting with purple primer.
4. When solvent wielding at temperatures below  40°F (5°C) or above 85°F (30°C), consult data sheet.
5. When solvent wielding pipe over 3", recommended applicator is a natural bristle brush one-half the pipe diameter, i.e. , 3" brush for a 6" pipe.
6. Apply thin coal of cement to fitting; avoid puddling inside. Make certain the entire socket surface is covered. Be especially careful not to "overcoat" thin wall or bell and pipe.
7. Apply liberal coat of cement to pipe to the depth of the socket; leave no void.
8. Assemble parts quickly! Cement must be fluid. If not fluid, re-coat both parts.
9. Push pipe fully into fitting using a 1/4 turning motion until pipe bottoms.
10. Hold pipe and fittings together for 30 seconds. Wipe off excess with cloth. Completed joints should not be disturbed until they have cured sufficiently to withstand handling.
11. Keep container closed when not in use.
12. Do not pressure test until cement is fully cured
For emergency first aid help call +17035273887
Adhesives .UN1133
Contains
Tetrahydrofuran,(109-99-9) Cyclohexanone(108-94-1) Metylethyl Ethyl Ketone (78-93-3)
Danger:
Highly flammable liquid and vapor. Causes serious eye irritation. Harmful if inhaled. May cause respiratory irritation. Suspected of causing cancer. May cause drowsiness or dizziness. May form explosive peroxides. Repeated exposure may cause skin dryness or cracking.
Cautions:
Keep away from heat, spark, open flames and other hot surfaces. No smoking. Keep container tightly closed when not in use. Use only outdoor or in a well ventilated area. Wear protective gloves, protective clothing, eye protection, face protection. Use nosh-approved respirator as required.
If in eyes: rinse cautiously with water for several minutes. Remove contact lenses if present and easy to do so. Continue rinsing.
If on skin: rinse affected area with water for 15 minutes. Seek medical advice if irritation persist .
If ingested: rinse mouth with water. Give one or 2 glasses  or water or milk to dilute. Do not induced vomiting.
If breathing is stopped, give artificial respiration. Get medical attention. Dispose off products in accordance with local regulations. Obtain copy of SOS from distributor. Do not eat, drink or smoke when using this product. Remove immediately all contaminated clothing.
Keep out of the reach of children.