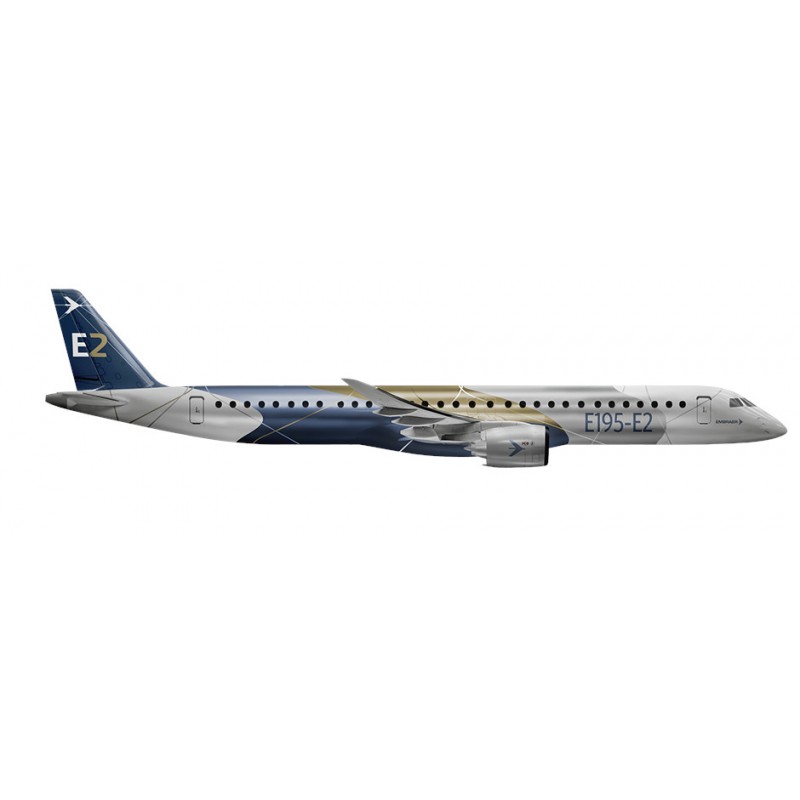  
E195-E2 Embraer Commercial Jet
A comfortable dual class arrangement, 124 seats capacity jet which offers superior travel experience.
Better economics in operation
The largest aircraft in the E-Jet E2 family, the E195-E2 has been designed to maximize returns and efficiency on high-density routes. With its high-aspect ratio wings and swept tips, combined with other aerodynamic improvements,
FleetSmart
Outperform your rivals and sustain profitability
The E2 is the worlds best performing FleetSmart solution.
Built on E-Jet heritage and designed by people with passion for innovation and attention to detail, every opportunity has been considered for efficiencies and performance that contribute to a superior level of comfort and space for passengers and for operators, the ability to exploit new opportunities and sustain profitability/
Economics
Reducing operating cost, increase efficiency.
Compared to its predecessor E195, the E195-E2 successfully delivers double-digit percentage reductions in fuel burn and maintenance cost
On the flightdeck, electronic flightbags allow pilots to access realtime data which is continually analyzed so that the aircraft flies in the most economical way.
Performance
Maximizing fleet performance
The E2 pushes the technical envelop with its optimized design.
The use of smart materials amd the high aspect wings contribute to double digit lower fuel consumption compared to current-generation E-Jets. Pratt & Whitney PurePower* Geared Turbofan engines improve efficiency. Other advance controls including 4th generation fly-by-wire, have led to significant improvements, not only in fuel burn, but by maintenance costs, emissions and external noise.
Cabin
Award winning design for passengers and crew
Environment
Sustainable and environmental friendly
The use of advanced technology in the E2 reduced fuel consumption, CO2 emissions, noise and maintenance cost, at the same time as  maximizing operational efficiency of airlines.
Range
The aircraft that goes further 
The combination of capacity and range in one high-performance, the E195-E2 is the idea tool of operators wanting to enter new markets and take advantage of new opportunities. Carrying a full load of passengers, the E195-E2 range extends to 2,600nm (4,815km).

Product Information And Specifications/Ingredients
Maximum Takeoff Weight

61,500 kg / 135,585 lb

Maximum Landing Weight

54,000 kg / 119,049 lb

Maximum Payload

16,150 kg / 35,604 lb

Maximum Usable Fuel^

13,690 kg / 30,181 lb

Max Cruise Speed

Mach 0.82

Takeoff Field Length*

1,805 m / 5,922 ft

Takeoff Field Length**

1,305 m / 4,281 ft

Landing Field Length***

1,290 m / 4,232 ft

Service Ceiling

41,000 ft

Range****

2,600 nm / 4,815 km

Three classes

120 seats | 12 @ 36" | 24 @ 34" | 84 @ 31" pitch

Single class

132 seats | 132 @ 31" pitch

Single class*

146 seats | 146 @ 28" pitch