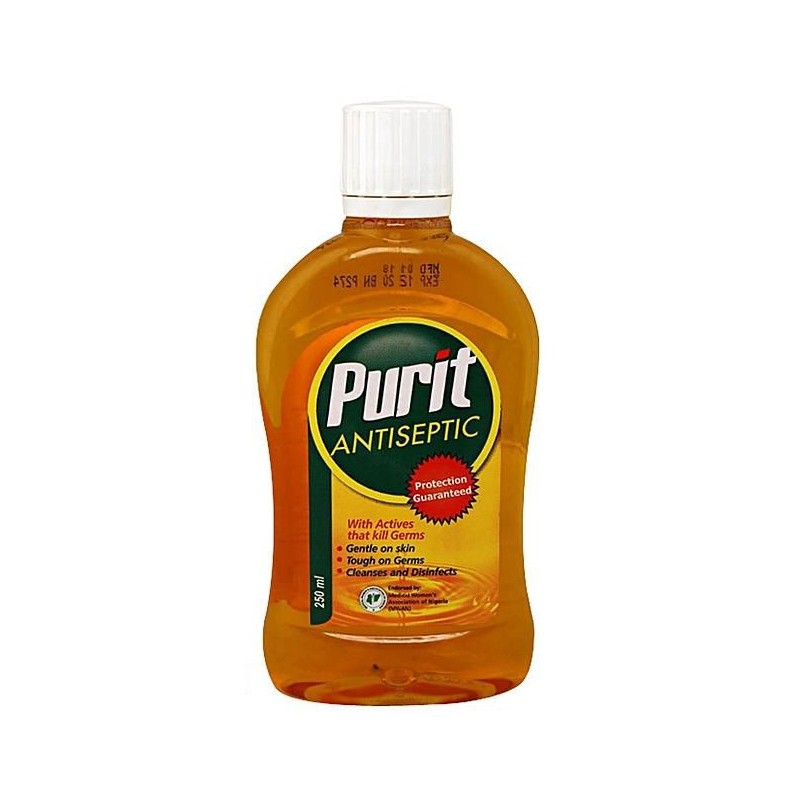  
Purit Antiseptic - 250ml

Protection guranteed
With actives that kill germs.
Gentle on skin.
Tough on germs
Cleanses and disinfects
Endorsed by Medical Women's Association Of Nigeria (MWAN)
Purit is specially formulated to deliver highly effective elimination of bacteria and other germs. It is mild on the skin and guarantees all day long protection.
Contains
Chlorhexidine Glusonate B.P. 0.3% w/v; Cetrimide B.P. 3.0% w/v; Aromatic Pine Oil ; Isopropyl Alcohol; Brown Colour; De-ionized water.
Usage
Midwifery|Post Natal|Baby Cases
1 Capful to a litre of water.
Nursery and sickroom
2 Capful to a litre of water.
Sterilization of surgical istrument
1 in 6 aqueous solution
Pre-operative skin disinfection
1 in 6 alcohol dilution
First Aid for cuts, grazes, minor burns and bites.
2 capfuls to a litre of water
Bathing
1/2 - 1 to the bath
Caution
For external use only.
Avoid contact with eyes, middle ear and other body cavities. Do not swallow, if swallowed wash out mouth with clean water and seek medical attention
Keep out the reach of children
Store in a cool dry place below 30 degrees
1 other product in the same category: