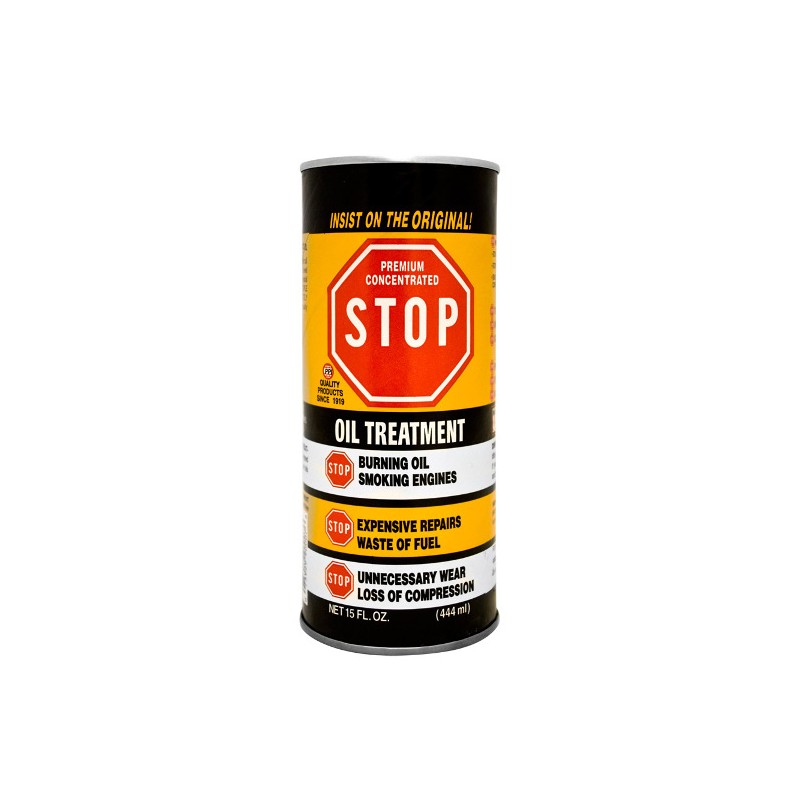  
STOP Oil Treatment 15 FL.OZ. / 444ml
Insist on the original!
Premium Concentrated Stop Oil Treatment
Stop Burning Oil
Stop Smoking Engines
Stop Expensive repairs
Stop waste of fuel
Stop Unnecessary wear
Stop loss of compression
Quality Product Since 1919
New Improved Stop Premium Concentrate Oil.
TREATMENT is a scientifically blended motor oil supplement, designed to give the highest level of performance and engine  protection. Special chemical additive are used to give TRIPLE WEAR PROTECTION and COMPLETELY ELIMINATE OIL FOAM, factors not usually found in in products of this type
Extends spark plug life
Increases film strength
Makes oil "oilier"
Frees hydraulic lifters
Gets rid of engine "clacking"
Protects in cold weather for easy starting
For use in automobiles, trucks, tractors, diesels and marine engines, regardless of mileage or age.
Stop Premium Concentrate Oil Treatment is a quality and performance designed and controlled to blend with all petroleum oils and greases.
Stop Premium Concentrate Oil Treatment is sold with an absolute guarantee of satisfaction or purchase price will be refunded.
Stop Premium Concentrate Oil Treatment  
Stops Oil Burning
Stops exhaust smoking
Seals rings to improve compression
Boost power
Saves fuel by reducing blow "Blowby"
Reduces friction
Plus
Triple anti-wear protection 
Increases engine life
Cuts costly engine repairs
Plus
Prevents oil foaming
Stops valve and lifter noise
Improves engine efficiency
Directions: Pour content into a warm idling motor oil at each oil change or when oil level is low. If your motor has extreme wear or high mileage and uses excessive quantities of oil, add two cans.
Warning: Avoid contact with eyes. May cause eye irritation. In case of contact with the eyes rinse immediately with plenty of water and seek medical advice.
For Smooth Shifting Action in differentials add contents to your regular lubricant. Do not fill above "fill" mark.
ADD TO YOUR OIL 
I2004 Pennsylvania Petroleum International