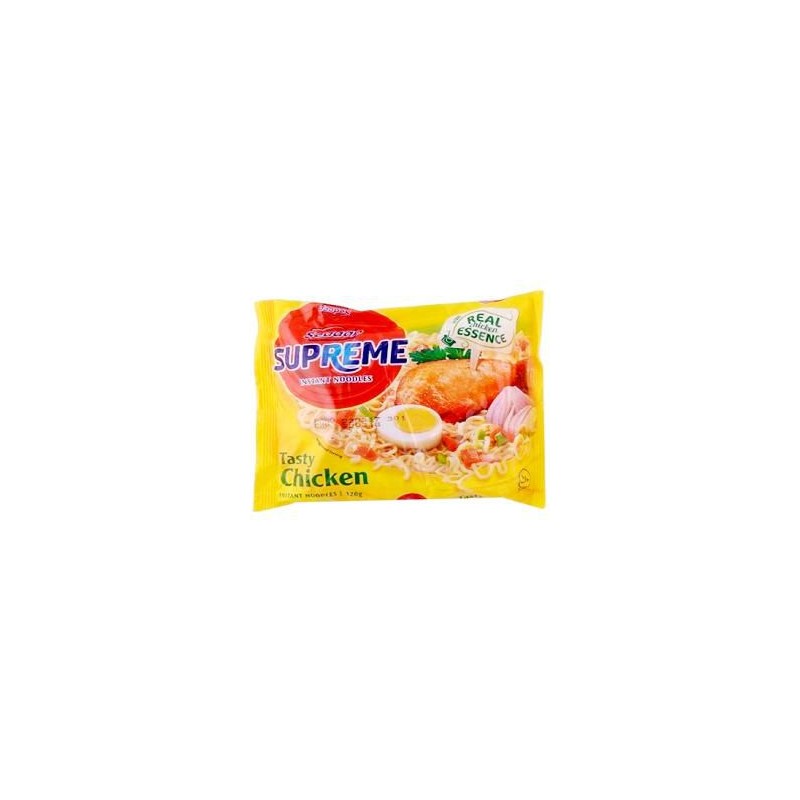  
Sedaap Supreme Instant Tasty Chicken Noodles 70g
With real chicken essence
Cooking instructions
Boil Sedaap Supreme noodles into 250cc (approx. 1 1/2 glasses) of water and simmer for 3 minutes.
pour seasoning and dehydrate chill to your taste and mix well with the noodle. Cook until the water is almost dried up.
Noodles is ready to be served!
Ingredients
Noodles:
Wheat Flour, Vegetable Oil, salt, guar gum, Sodium carbonate,. tartrazine Cl 19140 and mineral (Iron)
Flavouring:
Salt, Sugar, Monosodium glutamate (6121), Chicken Extract,   Garlic Powder, Chicken Flavour
Dehydrated Chili
Percentage daily values are based on a 2000 calories duet . Your daily values may be higher  or lower depending on your calories needs.
Store in a cool dry place.
Do not accept if seal is broken
Product Information And Specifications/Ingredients
Serving size 70g

70g

Amount per serving Calories

330

Calories from Fat

130

Protein

7g

Total Carbohydrate

41g

- of which sugars

4g

Total fat

14g

- of which saturated fat

5g

Fibre

2g

Vitamin A

20%

Vitamin B6

15%

Vitamin B12

8%

Calcium

2%

Iron

8%

Sodium

1080mg

Niacin

30%

Thiamine

20%

Pantothenate

6%

Riboflavin

6%

Folic Acid

20%
2 other products in the same category: