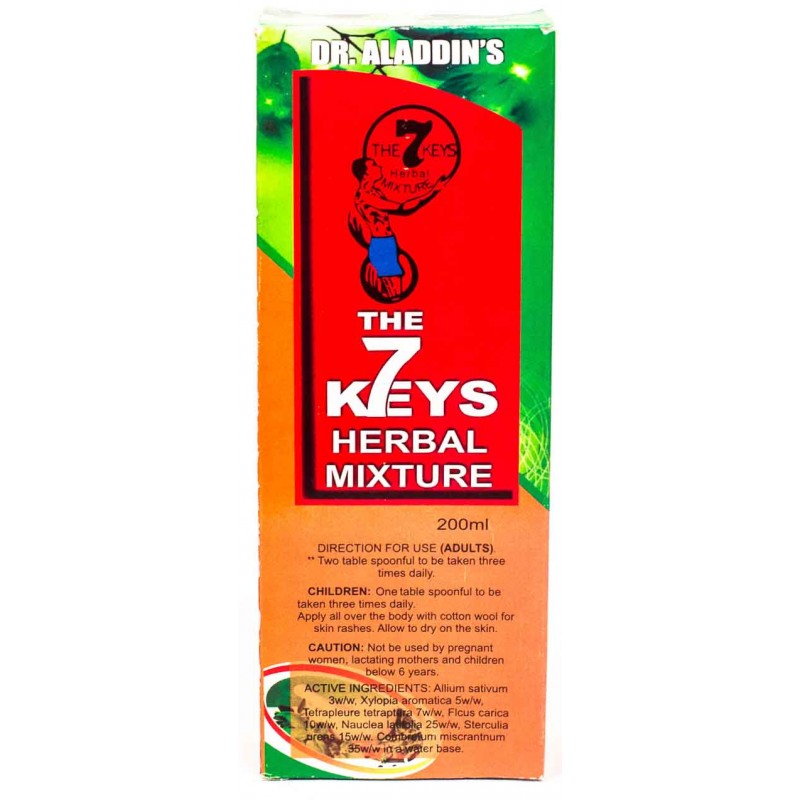  
Dr. Aladdin 7 Keys Herbal Mixture 200ml
Mixture for adults and children.
If symptom persist after 3 days consult a physician.
Since 1954
Indications:
For relief of feverish condition and skin rashes especially in measles and chickenpox. 
Direction For Use:
Children 1 tablespoon 3 times daily
Adult 2 tablespoon 3 times daily
Apply allover the body with cotton wool for skin rashes. Allow to dry on the skin.
Caution:
Not to be used by pregnant woman, lactating mother and children below 6 years.
The Statement have not been evaluated by NAFDAC
Active Ingredients:
Allium Sativum 3w/w Xylopia aromatica 5w/w, Tetrapleure tetraptera 7w/w,  Ficus carica,  10w/w, Nauclea latifolia 25w/w, Sterculia Urens 15w/w, Combretum miscrantnum 35w/w in a water base
Keep out of the reach of children.
Shake bottle before using.
Store 30°C.
Replace the cap securely after use.