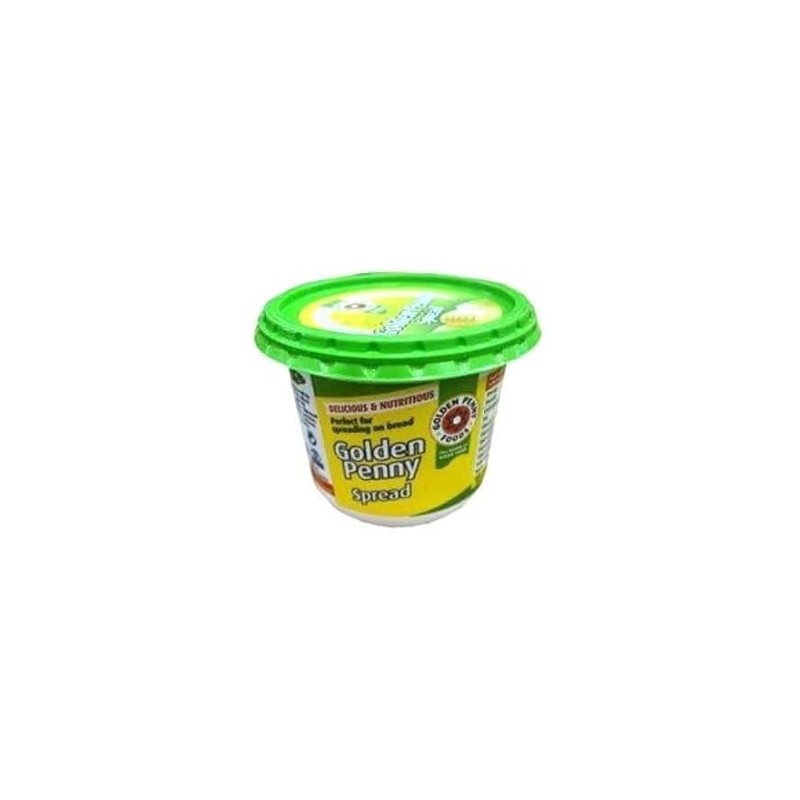  
Golden Penny Spread 250g
Perfect for spreading on bread
Rich in essential vitamins
Vitamin A fortified.
Ingredients
Vegetable oils, and Fats(70%), (Palm Oil, Palm Stearin, Soya Oil, and or Palm  Olein)  water, salt, Emulsifiers (E-471, E-476), preservative (potassium sorbate), Butter flavor, Citric Acid, colorant (Beta-carotene), Antioxidant (TBHQ, BHA), Vitamins (A,D, E, Niacin, Folic Acid, B6, B12)
Alergens: Soya
Vitamin A For vision and the body's immune system
Vitamin D to maintain strong bones.
Vitamin B essential for proper body functioning.
Vitamin E promotes healthy skin.
Folic Acid helps the body make healthy new cells
Fats supplies energy to the body
Store in a cool place
Product Information And Specifications/Ingredients
Average Content per 100 g

:

Energy

940KJ

Total fat

25g

- of which saturated fat

12.5g

Monounsaturated Fat

12.5g

Polyunsaturated Fat

0.3g

Vitamin A

990ug

Vitamin B6

2mg

Vitamin B12

3ug

Vitamin D

70ug

Vitamin E

10mg

Sodium

1.37g

Niacin

15mg

Folic Acid

240ug
2 other products in the same category: