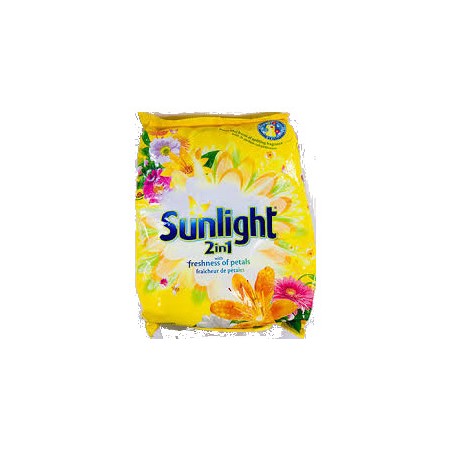  
Sunlight Detergent Powder 2 In 1 Yellow 900g
Cleans & freshens
Burst after burst of uplifting fragrance
Freshness of petals
Spring sensations
Ahhh, smell the scent of spring!
The long lasting fragrance of Sunlight 2 In 1 spring sensations will put a spring in your step and a smile on your face. Go on, it's time to celebrate life with your friends!
Sunlight 2 In 1 is ready to get to work! It's made with the best that SUNLIGHT offers, so it will clean your clothes thoroughly and make them smell sensational too.
Ah, spring is here!
Washing Instructions for a full wash
Sprinkle a hand full of SUNLIGHT into a bucket of clean water
Shake your hands about to dissolve and get loads of foam
We recommend soaking for 1 hour. Wash as normal and don't forget to rinse well.
Don't forget to wash, dry and apply cream to your hands afterwards.
Ingredients
Surfactant, Sodium Carbonate, Sodium Silicate, Sodium Sulfate, Sodium Carboxymethyl Cellulose, Optical Brightener, Perfume.
Warning!
If one swallows any washing powder call your doctor or go to the nearest hospital as soon as possible. If you get washing powder in your eyes, wash with loads of running water. If irritation persists contact your doctor. Keep out of the reach of children and pets.