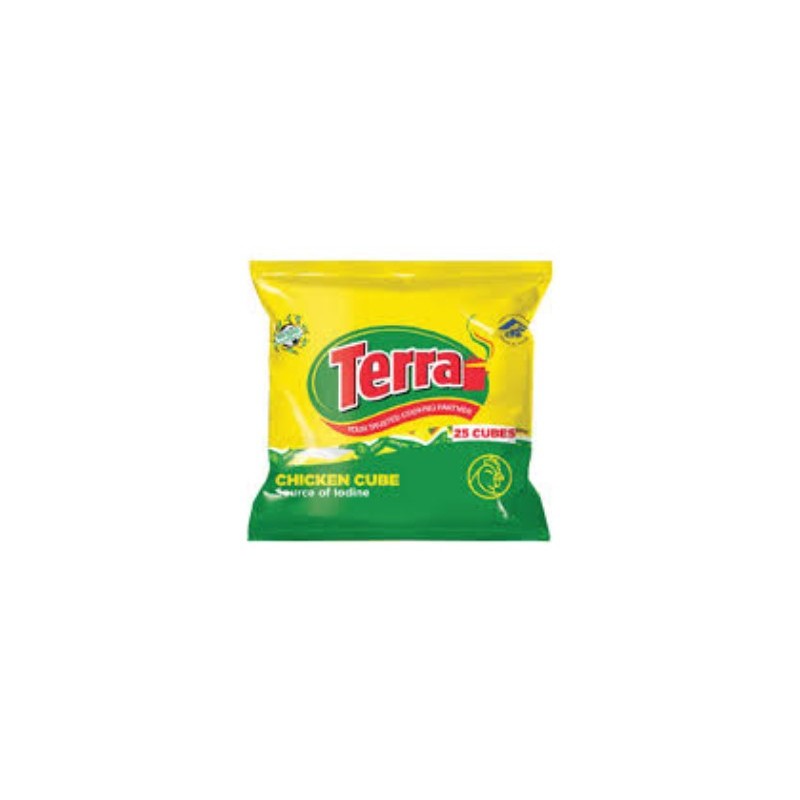  
Terra Chicken 25 Cubes100g
Your trusted cooking partner
Source of iodine
From the house Chi brand of friend
Ingredients:
Iodized salt, Flavour enhancers (E621, E627,E631), Corn Starch, Sugar, Vegetable Fat, Chicken Flavour, Water, Spices (Pepper, Turmeric and Garlic), Emulsifier (Soya Lecithin), Citric Acid, Colourant (E150c)
of an Adult's Guideline Daily Amount**
A portion of a meal for 6 is prepared with 5 Terra Seasoning Cubes.
Fried Rice
Method
Season chopped mixed vegetables with some salt and Terra Chicken cubes, set aside.
In a large pot, heat up three tablespoons oil, add onion and spices, and fry. Add Terra Cubes, salt, water and bring to boil. Add 4 cups of rice and cook for 20-25 minutes.
Place another pot on medium heat , add 2 tablespoons oil, vegetable and seasoning. Stir fry for 2-3 minutes.
Combine the pre-cooked rice and vegetables. Stir well and serve hot.
Store in a cool, dry place
5 other products in the same category: