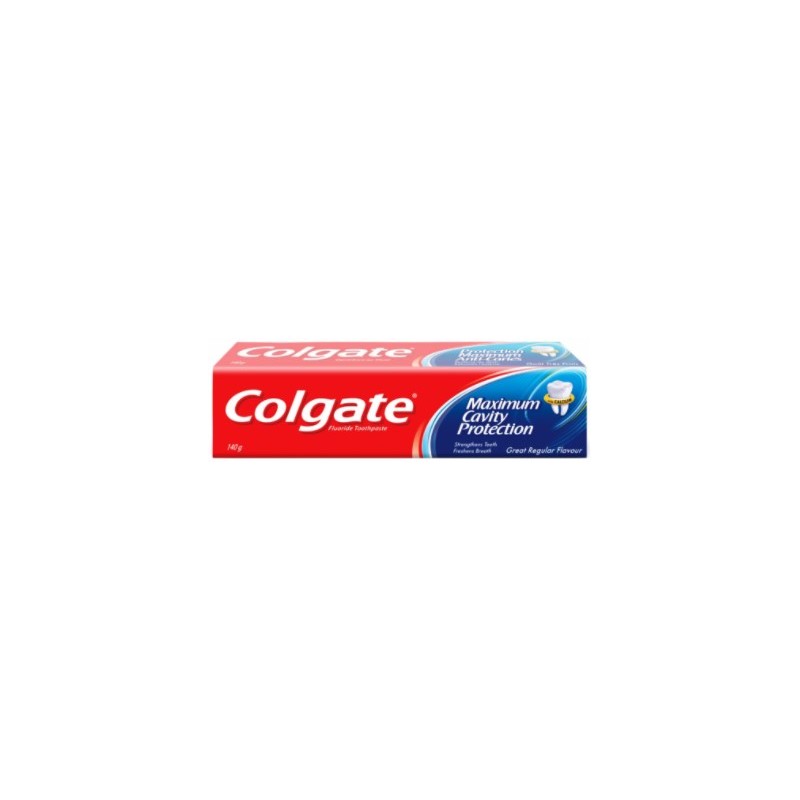  
Colgate Maximum Cavity Protection Fluoride Toothpaste 140g
with Calcium and Fluoride
Strengthens Teeth
Freshens Breath Great Regular Flavour
Help protect against cavities
Protects all around teeth surfaces
Helps keep teeth cleaner and whiter
Great mint taste freshens breath
Direction for use:
Brush thoroughly with a Colgate toothbrush, after each meal, or as directed by a dentist or physician. Children of 6 years
and under should only use a pea size amount  and should be  supervised  by an adult to minimize swallowing. In case of intake of fluoride
from other sources consult a dentist or doctor. Do not swallow. Spit and rinse thoroughly after brushing.
Contains
Sodium Monofluorophosphate 1.1% (1450ppmF).
Ingredients:
Calcium Carbonate, Aqua, Sorbitol, Sodium Lauryl, Sulfate, Sodium Monofluorophosphate, Aroma, Cellulose gum, Sodium Bicarbonate, Tetrasodium Pyrophosphate,
Benzyl Alcohol, Sodium Saccharin, Sodium Hydroxide.
Endorsed by Dental Association: Kenya Dental Association
SMPI
FLUORIDE TOOTHPAST
Store in a cool dry place away from direct heat or sunlight.
Save water, turn off tap while brushing.
11 other products in the same category: