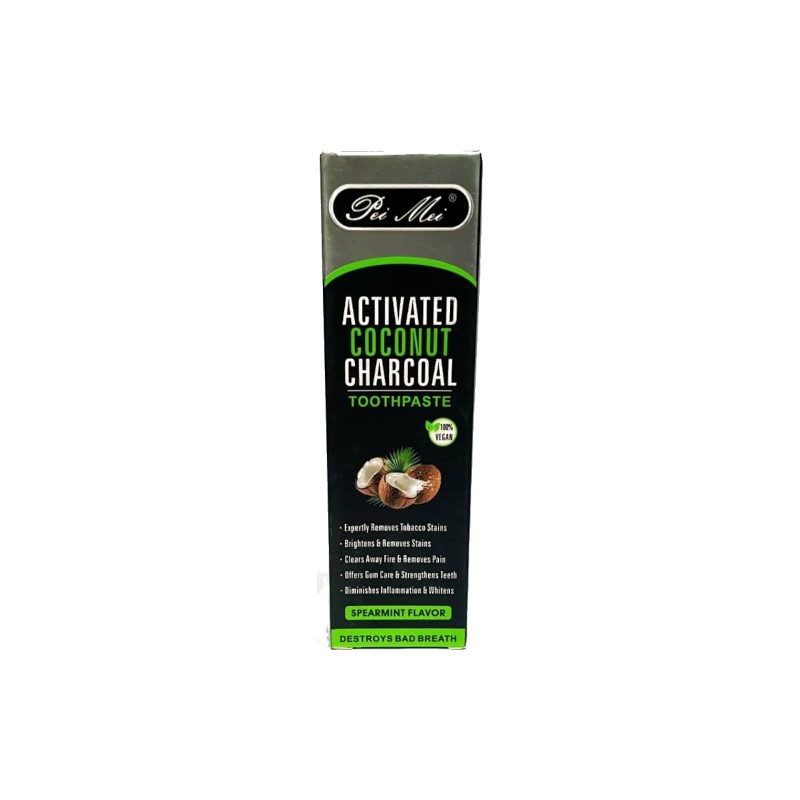  
Pei Mei Activated Coconut Charcoal Toothpaste 100ml
Pei Mei Activated Coconut Charcoal Toothpaste
 S10% VEGAN
•Expertly Removes Tobacco Stains 
•Brightens & Removes Stains
•Clears Away Fire & Removes Pain 
•Offers Gum Care & Strengthens Teeth 
•Diminishes Inflammation & Whitens
 SPEARMINT FLAVOR
 DESTROYS BAD BREATH
Long-term smoking, drinking & coffee and failure to brush teeth timely will form dental stains & spots on the tooth surface, make teeth yellow & black and cause odor, enamel damage, exposed dentin & tooth decay.
 This product is made of the expert stain removal and fresh oral form ulas to offer whitening effects 3 times more than those of general toothpaste.
 Directions: Brush teeth for at least one minute after each meal or at least twice a day to whiten teeth and freshen breath. Attention: It is recommended that children under 6 years old should use only a pea-sized amount of tooth paste each time under adult guidance to reduce swallowing and freshen breath.
Ingredients:
Calcium Carbonate, Water, Sorbitol Hydrated Silica, Peg, Sodium Saccharin, Cellulose Gum, Flavor, Sodium Benzoate, Menthol, Trisodium Phosphate, Xanthan Gum, Sodium Saccharin.
11 other products in the same category: